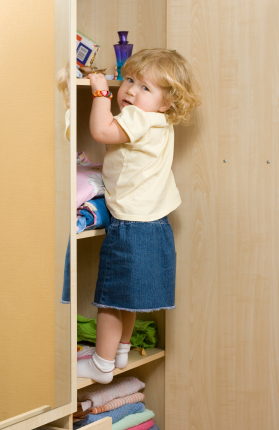 A child's imagination can turn a rainy day of indoor play into a thrilling quest to avoid a carpet made of "lava." A five-year-old performs an elaborate "furniture ballet" across the couch. A toddler uses a drawer handle for balance as he crosses the living room. To keep indoor play fun and safe, it's important for parents and caregivers to be aware of the hazards of furniture tip-overs and safeguard their homes.
According to a report  from the U.S. Consumer Product Safety Commission (pdf), "more than 22,000 children 8 years old and younger are treated in hospital emergency rooms every year (2008-2010) for injuries related to instability or tip-over of televisions, furniture, and appliances." Between 2000 and 2010, there were 245 reports of tip-over-related deaths involving children 8 years and younger. The greatest risks to children are improperly mounted televisions that fall from the wall and dressers with drawers that children use to climb. According to the CPSC, "the most common tip-over scenarios involve toddlers who have climbed onto, fallen against or pulled themselves up on furniture."
Most, if not all, of these tip-over injuries are preventable by taking some simple steps to safe-guard your home. Several injury prevention groups provide resources on tip-over prevention, including: Safe Kids' video on dresser tip-over and safety basics guide with tips on furniture tip-over prevention, and CPSC's safety alert on oven range tip-over prevention and PSA on  furniture tip-over tragedies.
Some of the key tips from these resources include:
Properly anchor flat-screen televisions to the wall (use the manufacturer's guide and warnings for tips on best installation).
Avoid placing tempting items like toys and candy on high shelves, as children may try to climb the furniture to reach them. 
Use wall-brackets to anchor top-heavy furniture including: TVs, fish tanks, microwaves, bookcases, and other large appliances.
Check your oven range's stability and install an anti-tip bracket. Avoid placing desirable items on the counters to discourage children from using the oven door as a step.
Supervise young children at all times.
Safety education is the key to furniture tip-over prevention. Please share these resources widely to help reduce the number of children injured in their own homes.
Additional Reading: