Child Safety Collaborative Innovation and Improvement Network
Child Safety Collaborative Innovation and Improvement Network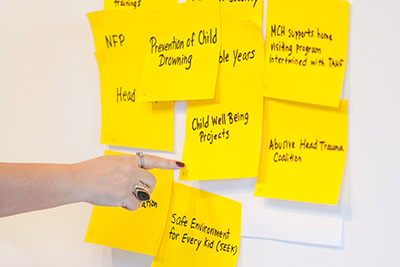 More children and adolescents ages 1-19 die from injuries and violence than from all diseases combined, and injuries are a leading cause of emergency department visits, hospitalizations, and disabilities. The Child Safety CoIIN represents an unprecedented opportunity for states and jurisdictions to advance evidence-based strategies for injury and violence prevention. Through the Child Safety CoIIN, states and jurisdictions are working with one another to increase the adoption of evidence-based policies, programs, and practices at state and local levels.
For questions about the Child Safety CoIIN, please contact:
Jennifer Allison
jallison@edc.org
617-618-2918
Charter
Change Packages and Outcome Measure Worksheets
Change Packages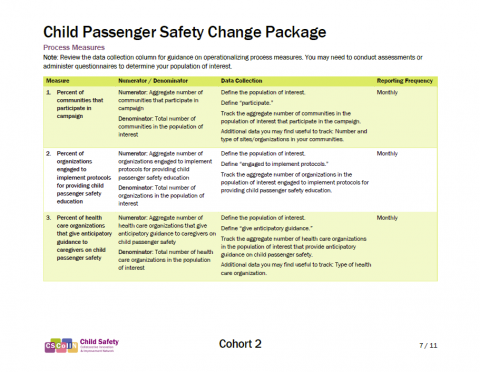 The Change Packages list the evidence-based and evidence-informed strategies that will lead to breakthrough improvement in five topic areas of child safety.
The Change Packages include the Child Safety CoIIN aim statements, goals, drivers, change ideas, and measures. They were developed by the Children's Safety Network (CSN) with input from the Steering Committee of the National Coordinated Child Safety Initiative and the states and jurisdictions that participated in Cohort 1.
Outcome Measure Worksheets
Stories of Innovation: Collecting Real-Time Outcomes Data for Injury Prevention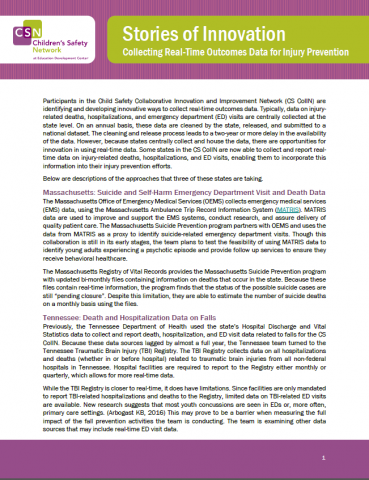 Participants in the Child Safety Collaborative Innovation and Improvement Network (CS CoIIN) are identifying and developing innovative ways to collect real-time outcomes data. Typically, data on injury-related deaths, hospitalizations, and emergency department (ED) visits are centrally collected at the state level. On an annual basis, these data are cleaned by the state, released, and submitted to a national dataset. The cleaning and release process leads to a two-year or more delay in the availability of the data. However, because states centrally collect and house the data, there are opportunities for innovation in using real-time data. Some states in the CS CoIIN are now able to collect and report real-time data on injury-related deaths, hospitalizations, and ED visits, enabling them to incorporate this information into their injury prevention efforts.
This document has descriptions of the approaches that three of these states are taking.
Infographic: A Roadmap to Continuous Quality Improvement

Child Safety CoIIN: A Roadmap to Continuous Quality Improvement
The following information uses the analogy of a road trip to describe the steps for participants in the Child Safety CoIIN. We hope it will help you understand how all the different components fit together and how your state, jurisdiction, or tribal community team can use quality improvement to prevent childhood injuries. For definitions and additional information, see the CS CoIIN Charter.
Decide Where You Want to Go
State your destination as an aim statement reflecting the reduction in injuries you would like to see by the end of the CS CoIIN (make sure your aim statement is SMART*)
If you work on more than one topic area, you'll need a destination for each!
Map Your Route
Think of the Change Ideas in the Driver Diagram as roads. While choosing the roads you will take, ask yourself:
Do the roads lead to the destination (aim statement)?
Will the roads get me to the destination on time?
You may need to revise your destination and roads a few times to make sure you're on the best route.
Pick Your Passengers
Your passengers are the people who carry out the change ideas and collect data. While selecting your passengers ask yourself:
Who has the resources, connections, and know-how to get you to your destination and map your progress?
Be sure to consider state agencies, epidemiologists, community-based organizations, coalitions, law enforcement, hospitals and health clinics, schools, policy-makers, etc.
Buckle Up, Start Your Engine, and Hit the Road
Start developing, testing, implementing, and spreading your change ideas through Plan Do Study Act (PDSA) cycles.
Think of each PDSA cycle as a revolution of your tires.
Check Your Dashboard
Your dashboard consists of real-time data that helps you make sure everything is working properly and you are still on track to arrive at your destination on time. These are the core components of your dashboard:
Process measures will show how quickly you are moving towards your destination. Make sure they are measuring what you are working on
Outcome measures will show how close you are to your destination
PDSA cycles will show when your change ideas are working and when they need adjustment
Conduct Routine Maintenance
Continuously check and respond to your dashboard. Ask:
Are you still going to the same place?
Have any passengers gotten out of your car?
Do you need to pick up new passengers?
Did you hit any detours or express lanes?
Do you need to revise your goals or route?
Share your journey with other state teams and learn about their journeys. Someone might find an alternative route that will get everyone to their destination faster!
Plan Your Next Road Trip
Once you make it to your destination, keep on going! Using what you learned on your journey, spread your successful strategies across your state.
*Specific, Measurable, Achievable, Realistic, Time bound