Child Safety Learning Collaborative
Child Safety Learning Collaborative

The Health Resources and Services Administration's (HRSA) Maternal and Child Health Bureau (MCHB), in cooperation with the Children's Safety Network, is launching the second cohort of the Child Safety Learning Collaborative (CSLC) for state and jurisdiction Title V agencies. The aim of the Learning Collaborative is to reduce fatal and serious injuries among infants, children, and adolescents. The second cohort will begin in May 2020 and continue for 18 months to October 2021.To be considered for the Child Safety Learning Collaborative, interested states and jurisdictions must submit the completed application form and statement of commitment to csninfo@edc.org by Friday, February 28, 5pm Eastern Time.
Note: For current participating states and jurisdictions interested in continuing to Cohort 2, access and complete the continuing application here.  You must be logged into the CSLC Web Portal for this link to work.
REGISTER and attend the CSLC Cohort 2 Informational Webinar: February 6, 2020 2:00-3:00p ET
For supplemental information on the CSLC, please review the overview of the CSLC and answers to frequently asked questions (FAQs).
Map of current participating states and jurisdictions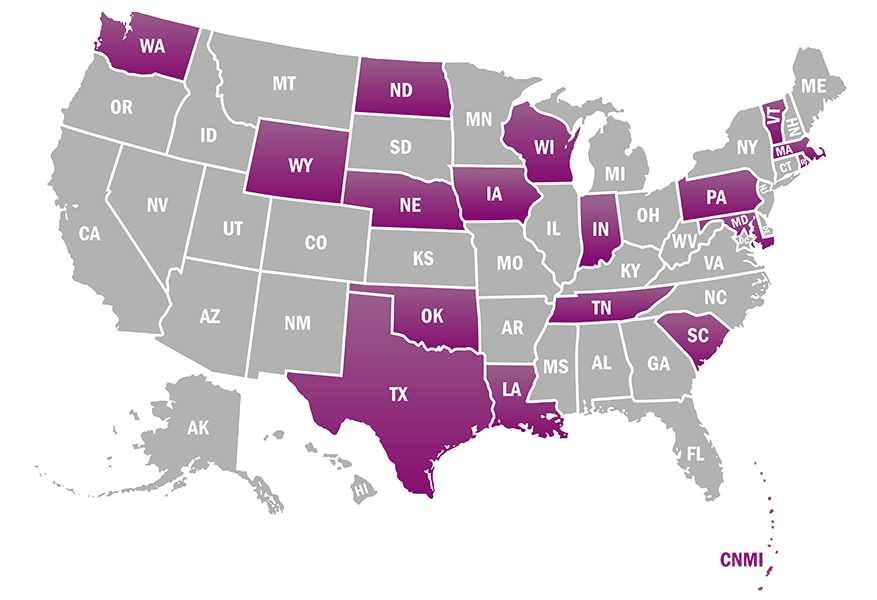 More children and adolescents ages 1-19 die from injuries and violence than from all diseases combined, and injuries are a leading cause of emergency department visits, hospitalizations, and disabilities. The Child Safety Learning Collaborative represents an unprecedented opportunity for states and jurisdictions to advance evidence-based strategies for injury and violence prevention. Through the CSLC, states and jurisdictions are working with one another to increase the adoption of evidence-based policies, programs, and practices at state and local levels.
For questions about the Child Safety Learning Collaborative, please contact:
Jenny Stern-Carusone