Archived CSN Webinars
[CSN Webinar -
Jan 14 2021 - 2:00pm
], [ Event -
Jan 14 2021 - 2:00pm
]
Child Death Review (CDR) and Fetal and Infant Mortality Review (FIMR) teams are natural partners for state Maternal Child Health Title V programs. Fatality review teams such as FIMR and CDR review deaths to identify system gaps impacting the health and safety of their community. Title V programs can use these findings to develop, support and evaluate programs.  In this webinar, Abby Collier of...
Child Safety Learning Collaborative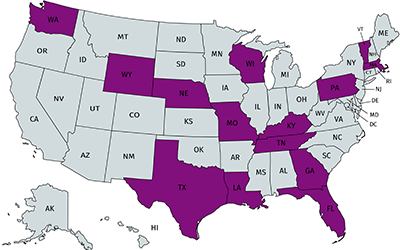 The Health Resources and Services Administration's (HRSA) Maternal and Child Health Bureau (MCHB), in cooperation with the Children's Safety Network, is launching the second cohort of a new Child Safety Learning Collaborative for state and jurisdiction Title V agencies. The aim of the Learning Collaborative is to reduce fatal and serious injuries among infants, children, and adolescents. The second cohort began in May 2020 and continues for 18 months to October 2021.  We will begin soliciting for Cohort 3 in the summer of 2021, so stay tuned!
The Learning Collaborative focuses on five topic areas: Bullying Prevention, Motor Vehicle Traffic Safety (includes child passenger safety and teen driver/passenger safety), Poisoning Prevention (includes the prevention of prescription medication misuse/abuse), Sudden Unexpected Infant Death (SUID) Prevention, and Suicide and Self-Harm Prevention. 
Welcome, current Child Safety Learning Collaborative Members!   Go to Child Safety Learning Collaborative Member Section