Image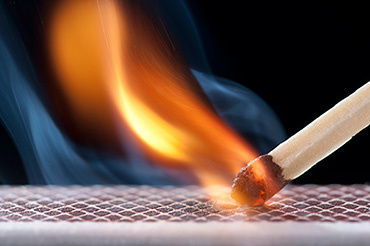 Definition: Residential fires can be caused by cooking, heating, smoking, gasoline, or candles.
Magnitude of the Problem
Lighted tobacco products (mainly cigarettes) are the leading cause of residential fire fatalities while cooking equipment is the leading cause of residential fire injuries.
According to the CDC, fires and burns are the third leading cause of unintentional injury fatalities in the U.S.
According to Safe Kids USA:
Approximately 366 children 14 or under died due to fire and burn injuries in 2008.
Nearly 90,000 children 14 or under sustained nonfatal fire or burn injuries in 2009.
Scalds are the most common cause of burn-related hospitalizations for young children. Contact burns are more common with older children.
20% of all burn cases in the U.S. are for children ages 4 and under.
In 2010, children ages 5-9 had the most firework injuries. Children ages 10-14 had the second highest rate of firework injuries (per capita).
Prevention
Personal fire safety depends upon:
safe storage of matches, lighters, and gasoline
smoking outdoors and using fire safe cigarettes
not leaving stoves, grills, or burning candles unattended
performing proper maintenance on furnaces, fireplaces, chimneys, and wood stoves
installing smoke detectors and changing batteries annually; and
developing and practicing a fire evacuation plan.
Injury prevention initiatives aimed at keeping people safe from fires and burn-related injury and death include fire alarm give-aways; fire alarm safety checks; and regulations mandating fire safe cigarettes, child-resistant safety lighters, and smoke alarms in homes.