Choking & Strangulation Prevention
Image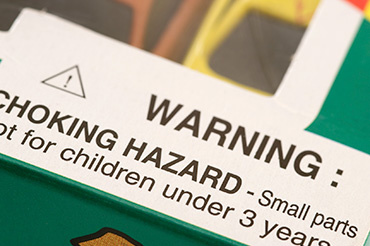 Definition: Asphyxiation includes suffocation, choking, and strangulation, all of which can result in death and permanent brain damage for children whose internal or external airways are blocked by foreign objects, such as food, coins, window blind cords, or even blankets.
Magnitude of the Problem
According to SafeKidsUSA, in 2009:
1,099 children under the age of fifteen died due to unintentional choking/strangulation.
94% of the 1,099 deaths were children under the age of five.
One third of all toy-related fatalities reported to the CPSC were due to unintentional choking/strangulation.
Prevention
The majority of incidents of childhood suffocation, strangulation, and choking occur in the home. Product design, regulation, and recalls can help prevent injuries and death due to asphyxiation in young children (e.g., the requirement that toys passing a small parts test for children less than 3 years of age and recalls of dangerous toys by the U.S. Consumer Product Safety Commission).
Other strategies for preventing asphyxia include educating families, care givers, and child care providers on age-appropriate food items and sizes for safe ingestion as well as age-appropriate toys; supervising children while they are eating and playing; and scanning the home environment for possible hazards.