Image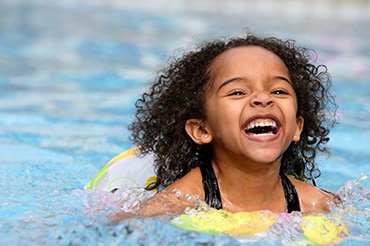 Definition: Childhood drowning and near-drowning can occur in a number of settings -- pools, hot tubs, beaches, lakes, bathtubs, and buckets. Activities such as boating, jet skiing, water skiing, sailing, and surfing are also associated with water-related injuries and fatalities. Most drowning incidents happen when a child falls into a pool or is left alone in the bathtub. It can take only a couple of seconds for a child to drown, and drowning typically occurs when a child is left unattended or during a brief lapse in supervision.
Magnitude of the Problem
According to CDC WISQARS data:
Every year in the U.S., 945 children under age 20 die from drowning.
Nearly half of them are infants and toddlers under age 5.
While White children account for more than half of these fatalities, American Indian/Alaska Native and Black children are significantly more likely to drown.
Prevention
Laws and regulations enacted to address water safety often concentrate on swimming pool regulations and personal flotation device mandates. For example, the Virginia Graeme Baker Act requires anti-entrapment drain covers on pools and spas.
Environmental protections (e.g., isolation pool fences and lifeguards) can protect children and youth from drowning. Other strategies include teaching children proper techniques for survival swimming; communicating to parents and caregivers the importance of closely supervising children who are engaged in water activities; emphasizing the necessity of wearing life jackets while boating; educating individuals about avoiding alcohol while participating in water activities; and providing training in cardiopulmonary resuscitation (CPR).
Centers for Disease Control and Prevention, National Center for Injury Prevention and Control. Web-based Injury Statistics Query and Reporting System (WISQARS) [online], Fatal Injury Reports, 2010-2014.