Image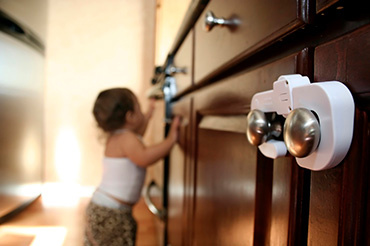 Definition: Unintentional injuries that occur in and around the home can include burns, falls, drowning, poisonings (including from lead, carbon monoxide, household cleaners, and prescription medications), animal bites, and choking/suffocation.
Magnitude of the Problem
According to the CDC:
Home and recreation injuries account for one third of all injury-related emergency room visits.
Over 4 out of 5 fire deaths in happened in peoples' homes.
Younger children are more at risk for scalding burns resulting from hot liquids or steam while older children have more injuries due to direct flame burns.
374 children ages 0 to 19 are treated in an emergency department and two children die as a result of being poisoned each day in the U.S., according to the CDC.
Prevention
Home injuries are preventable. Raising awareness among parents and caregivers of the risks of injuries to children in the home, and the importance of implementing safety measures, is the first step in preventing home injuries to children. Home safety checklists are useful tools for parents to assess the risk of injury in their homes. Smoke alarm and carbon monoxide alarm give-away programs in at-risk communities are also useful tools to protect public health. Ensuring playground equipment is safe and properly maintained and has a soft landing surface can help prevent fall injuries in children. Strong State child care licensing regulations can help keep children safe in at-home child care settings.
More information is available under the following injury topic pages: Choking & Strangulation; Drowning Prevention; Fire & Burn Safety; Playground Safety; Poison Prevention; Safe Sleep