Image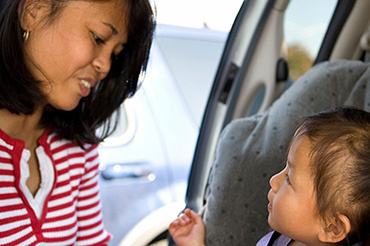 Definition: Child passenger safety requires consistent use of correctly installed safety seats, booster seats, or seat belts that are appropriate for a child's size and age.
Magnitude of the Problem
Motor vehicles crashes are the leading cause of death among children, according to the CDC.
An average of 4 children, ages 14 and under, were killed, and 529 were injured every day in motor vehicle crashes, in 2008 (NHTSA)
According to Safe Kids:

31% of the passenger deaths for children under the age of 4 and 42% of passenger deaths for children ages 4-7 were not restrained in 2009.  Child safety seats and belts can reduce fatal injury by up to 71% for infants and 54% for children ages 1-4.
Approximately 1,900 children ages 0-14 die in motor vehicle-related accidents every year since 2000.
Prevention
Strategies to improve child passenger safety include:
child safety seat laws, which have been adopted by all states and which have reduced fatal injuries to children by 35% and all injuries to children by 17%
child safety seat distribution and education
community-wide information and enhanced enforcement campaigns
incentive and education programs that provide rewards to parents or children for the purchase and proper use of child safety seats
safety seat education that is provided by health care professionals in clinical settings