Image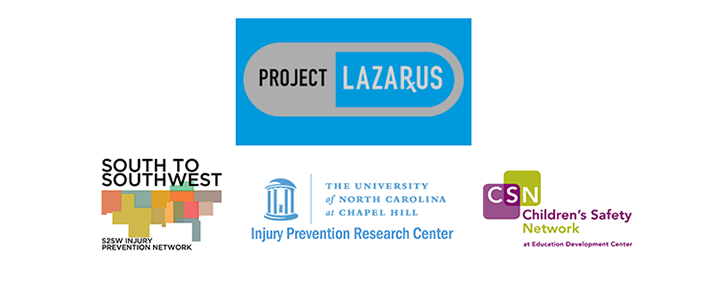 Lessons Learned from a "Bottom-Up" and "Top-Down" Drug Overdose Prevention Program - The Project Lazarus Model
THE PROGRAM: The Children's Safety Network, the South by Southwest Injury Network, and the Injury Prevention Research Center at the University of North Carolina-Chapel Hill recently hosted the webinar "Implementing Project Lazarus in North Carolina Pt. 2: The Medical/Law Enforcement-Based ("Top-Down") Components of Project Lazarus" This webinar focused on the lessons learned from key Project Lazarus stakeholders who are responsible for conducting one or more of the intervention strategies suggested by Project Lazarus to North Carolina communities that are responding to the misuse or abuse of prescription pain medication and other opioids. In this webinar, the second in a two-part series, the presenters presented some of the key lessons learned from implementing the spoke (or "top-down" public health) activities of the Project Lazarus model during its roll out in Wilkes County to the rest of North Carolina. The intervention strategies that were covered include: (1) provider education; (2) hospital emergency department (ED) prescribing policies; (3) community education; (4) holistic patient support; (5) harm reduction, and the community-based distribution of naloxone; (6) the use of naloxone by law enforcement and first responders; (7) diversion control through pill take-back activities; and (8) substance use disorder treatment. Following the formal presentations of the webinar, the presenters responded to questions submitted by registrants.
Information presented during Parts 1 and 2 of this webinar series, as well as summaries of discussions, will be condensed into a white paper by the UNC Injury Prevention Research Center (IPRC) and made available for the general public shortly thereafter.  
THE PRESENTERS: Allen Smart, Vice President for Programs, Kate B. Reynolds Charitable Trust; Dr. Karin Mack, Science Advisor to the UNC-IPRC Program Evaluation of Project Lazarus, the Centers for Disease Control and Prevention; Dr. Christopher Ringwalt, Senior Scientist, UNC-IPRC; the Reverend Fred Brason II, CEO and President of Project Lazarus; Dr. Sara McEwen, Director of Project Lazarus Medical Provider Education, NC Governor's Institute on Substance Abuse; Robert BB Childs, CEO, NC Harm Reduction Coalition; Donnie Varnell, Special Agent in Charge, NC State Bureau of Investigation; Kelly Ransdell, Retired Director NC Child Safety Network and Operation Medicine Drop; and Dr. Ashwin Patkar, Associate Professor Psychiatry and Medical Director of the Duke Addictions Program, Duke University School of Medicine and Core Project Lazarus Overdose Prevention faculty.
The archive for Part 1 is available on the CSN website