Image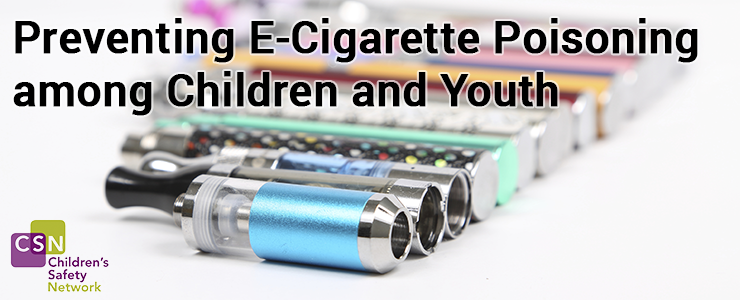 On December 11, 2014, CSN hosted a webinar focused on e-cigarette poisoning among children and youth. According to the American Association of Poison Control Centers, the number of cases managed by Poison Control Centers involving e-cigarettes containing nicotine rose dramatically from about 270 in 2011 to over 3,000 in 2014, so far. Over half of these calls involved children under age five.
Nicotine can be poisonous and liquid nicotine (e-juice) refills may be harmful to children. Products come in bright colors, flavors and scents. A few drops of e-juice absorbed through the skin or swallowed can result in an ER visit and 1/3 oz. may be fatal to a child. Currently, there are no federal packaging requirements for e-cigarettes or the refills.
The webinar speakers were Krista Osterthaler, American Association of Poison Control Centers, and Michael Freiberg, Tobacco Control Legal Consortium, who discussed the scope of the problem and prevention strategies and described state policies to address e-cigarette poisoning.
Speakers
Krista Osterthaler is the National Public Awareness and Outreach Manager for the American Association of Poison Control Centers (AAPCC), a nonprofit, national organization that represents the nation's 55 poison centers and the interests of poisoning prevention and treatment. Krista joined the poison center realm in 2011 as a poison prevention educator with the National Capital Poison Center. 
Mike Freiberg, Staff Attorney at the Public Health Law Center, works on two research projects related to menthol in tobacco products and cigarette butt litter. Previously, he researched non-cigarette tobacco products and provided legal technical assistance to jurisdictions around the country working on various tobacco control policies. He also serves as a State Representative and spent nine years on the Golden Valley City Council, helping to craft the city's strong secondhand smoke ordinance that was adopted in 2004.