Image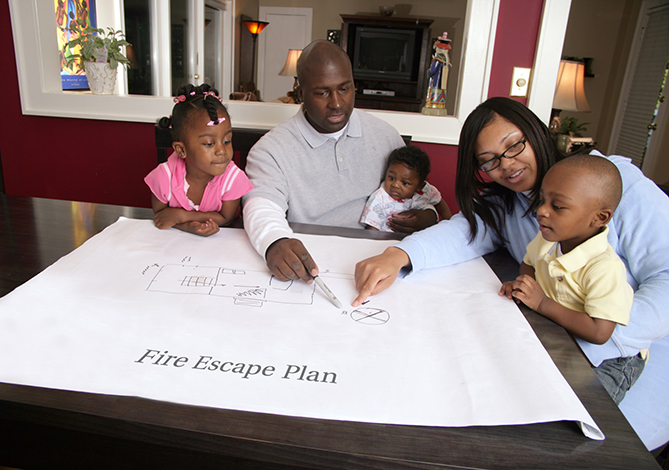 Fires and burns are the fifth leading cause of unintentional injury-related deaths to US children ages birth to 19 years.1 Every year, nearly 300 children and adolescents die from fire or burn injuries and over 100,000 are admitted to a hospital or treated in an emergency department.2 Risk of fire and burn injuries vary by age and developmental levels of children, yet much is already known about how to prevent these needless injuries.    
In this webinar, Elise Omaki of Johns Hopkins University will review fire injury data and describe fire related risks to children. She will discuss research about the benefits of smoke alarms, the need for smoke alarms, especially in high-risk settings, and evaluations of programs designed to increase smoke alarm prevalence. Ms. Omaki will describe several programs that translated research into community action by adapting the evidence-base to successfully implement smoke alarm programs.
Mrs. Owens Doyle and Ms. Johnson, both of the American Red Cross, will share vital American Red Cross fire and burn prevention resources available free to state and local partners. Red Cross staff and their partners and volunteers serve communities throughout the United States, Tribal Nations, and US Territories to help people understand and take distinct actions to help reduce their home fire risk. They will share details about the Red Cross programs, the accomplishments to date, tell you how you can get involved, and provide resources you can use in your household and community. Zina Gontscharow of the American Nurses Association, and a member of the CSN-A, will moderate this webinar.  
Centers for Disease Control and Prevention, National Center for Health Statistics (2020). Multiple Cause of Death 2019 on CDC WONDER Online Database.
Centers for Disease Control and Prevention, National Center for Health Statistics (2020). Multiple Cause of Death 2017-2019 on CDC WONDER Online Database.
Presenters and Moderator
Image

Monica Owens Doyle, BA/BS, CNP, PMP is the National Program Manager for the American Red Cross Home Fire Campaign. After serving two terms of service with AmeriCorps National Civilian Community Corps and supporting hurricane response and recovery in 2004 and 2005, Monica accepted a position as a Client and Community Recovery Specialist with the American Red Cross working across Southern Mississippi and Southeast Louisiana. She was recognized in 2012 as a White House Champion of Change by the Obama Administration for her work in building community resilience. She joined the National Headquarters Team in 2013 and helped to develop and launch the Home Fire Campaign in 2014. Through the program she manages, over 2.1 million smoke alarms have been installed throughout the United States via in-home visits in over 900,000 homes.
Image

Zina Gontscharow, MPP joined the American Nurses Association's (ANA) Policy/Government Affairs Team in September 2020, Zina Gontscharow serves as Senior Policy Advisor, elevating the nursing profession through federal regulatory advocacy. Prior to joining the ANA, Ms. Gontscharow was a Senior Policy Analyst for America's Essential Hospitals. There she played an integral role in the Association's policy initiatives to protect hospitals that serve a safety net role in their communities. In addition to her role at the ANA, Zina serves as President of the Western State Hospital Advisory Council, a state psychiatric hospital in Staunton, Virginia. She also volunteers in her community, holding several leadership positions. Zina holds a master of public policy and a bachelor's degree in government and international affairs, both from George Mason University.
Image

Sam Johnson, MS is the Program Lead for Youth Preparedness for National Headquarters at the American Red Cross. She began her career with AmeriCorps for the American Red Cross of Alaska and then supported long term recovery work in the US Virgin Islands after Hurricanes Irma and Maria. Ms. Johnson currently manages two youth preparedness programs, Prepare with Pedro (Grades K-2) and The Pillowcase Project (Grades 3-5), that have reached over 1.5 million youth since 2015.
 
Image

Elise Omaki, MHS is a Research Associate and a core faculty member of the Johns Hopkins Center for Injury Research and Policy. Ms. Omaki was trained in epidemiology at the Johns Hopkins Bloomberg School of Public Health and has over ten years of experience conducting injury prevention research and practice on a range of topics. Elise has a particular interest in the epidemiology of fire-related injuries and actively works with fire departments around the country to execute best-practice smoke alarm distribution programs. Working with teams in the public and non-profit sectors to adapt and implement injury prevention efforts, she is committed to translating research into practice.