Image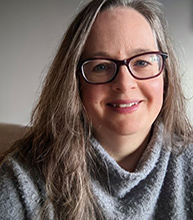 Training and Technical Assistance Associate
Clare Grace Jones, technical assistance associate, is a public health and safety expert specializing in capacity building, instructional design, training, quality improvement, project support, and virtual engagement. A Certified Community Prevention Specialist, she has 17 years of experience promoting public health, with a focus on substance misuse prevention and the Strategic Prevention Framework.
 
Jones advances health, behavioral health, safety, and injury and violence prevention initiatives through her roles with the Children's Safety Network, as the Sudden Unexpected Infant Death Prevention Topic Lead and through her work with the Strategic Prevention Technical Assistance Center and the Collaborative for Advancing Health Equity in Out-of-School Time. Previously, she worked for EDC's Center for the Application of Prevention Technology.
 
Before joining EDC, Jones held positions in state and community health agencies including state and regional training and TA provider, direct service provider, director of prevention services, state-level capacity coach, and project manager.
 
She holds an MEd in Instructional Design from the University of Massachusetts Boston and a BA in Elementary and Deaf Education from Flagler College.
Organization
EDC / Children's Safety Network (CSN)