Image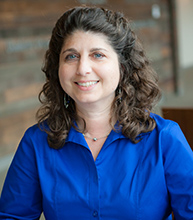 Senior Training and Technical Assistance Associate
Lauren Gilman, MA, is a highly skilled technical assistance specialist and an experienced program manager, with extensive knowledge of mental health promotion, behavioral health, school-based initiatives, substance misuse prevention, youth violence prevention, cultural responsiveness, and mentoring.  Drawing on her health communications and capacity-building expertise, she helps community organizations and school districts bridge research and practice, implement and sustain evidence-based programs, strengthen cross-sector collaboration, and use data-driven planning to achieve systems change.
 
Lauren is a training and technical assistance specialist for Children's Safety Network and is the content specialist for bullying prevention for the Child Safety Learning Collaborative (CSLC). Her integrated approach to advancing substance misuse prevention and SEL emphasizes interconnected risk and protective factors and fosters collaboration at the community level.
 
Lauren has worked as an interpreter for Spanish-speaking immigrants and a school counselor at an alternative high school program for Latino youth. She holds a B.A. from Swarthmore College, an M.A. in Intercultural Relations from Lesley University, and a Certificate in Medical and Legal Interpretation from Bentley College.
Organization
EDC / Children's Safety Network (CSN)