Image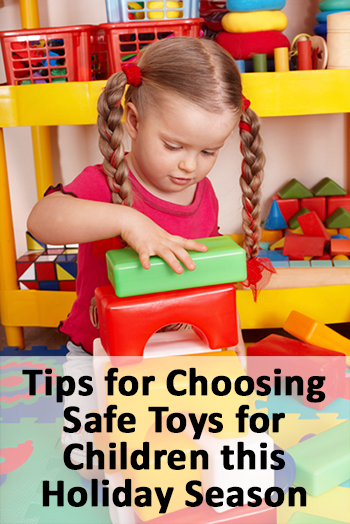 With Hanukah starting on November 27 and Black Friday creeping into Thanksgiving Day in many states this year, the holiday shopping season is in full swing. Stores and toy manufacturers offer an overwhelming selection of options in a competition to have the hottest toy of the season. When shopping for children it's important to do your own research on the safest toy options for the children in your life. According to a report by the Consumer Product Safety Commission (CPSC), in 2012 there were an estimated 192,000 toy-related, emergency department-treated injuries to children younger than 15 years. To better help you be a more informed toy shopper, the Children's Safety Network has compiled several resources that highlight toy shopping safety tips.
When shopping for toys for children, it's important to keep these three factors in mind:
Age appropriateness
It's important to take a child's age and abilities into account when selecting a toy. Keep an eye out for toys that contain small pieces that could be a choking hazard for children. According to the CPSC, at least 41 children aspirated or choked to death from 2005-09 on balloons, toys, or toy parts.
Proper protection gear
Bikes, scooters, skateboards and other toys that children can ride should always be accompanied by helmets and adult supervision. Stairs, pools, and steep hills should be avoided when children are playing with these types of toys.
Materials used in toys
Toys containing powerful, rare earth (neodymium) magnets can cause serious injury and death when ingested. Make sure to avoid giving children toys such as Buckyballs and Zen Magnets that contain these dangerous high-powered magnets that often look like candy. It's also important to avoid toys that contain small, "button" batteries that can be easily removed from the toy and ingested. 
You can also subscribe to the CPSC Product Recall list to keep track of toys that have been pulled from the market because of safety issues.
Resources:
CSN – Pediatric Magnet Ingestion: Get the Facts, Prevent an Injury
CPSC – For Kids' Sake Think Toy Safety… by Knowing Toy Dangers
CPSC – Global System of Toy Safety Works to Keep Kids Safe This Holiday Season; Recalls Down, Port Seizures Up
CPSC – Toy-related Deaths and Injuries Calendar Year 2012
NPR – Small "Button Batteries" Pose Big Risks for Kids
U.S. PIRG – Guide to Unsafe Toys
U.S. PIRG – Report: Safeguarding Public Health, Trouble in Toyland 2013
Child Safety Topics
Choking Strangulation
Cross-Cutting Strategies
Home Safety