Image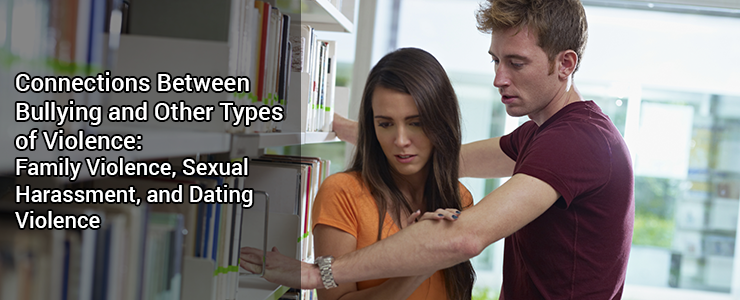 The Children's Safety Network recently presented the first in a series of webinars on the issue of bullying awareness, response, and prevention based on the "Building Capacity to Reduce Bullying and Its Impact on Youth Across the Lifecourse" workshop convened by the Institute of Medicine (IOM) and National Research Council (NRC) in April 2014. This first webinar in our series is entitled "The Connections between Bullying and Family Violence, Sexual Harassment, and Dating Violence" and explored youth aggression and bullying, sexual harassment, and dating violence which are widespread public health concerns.   During the webinar, Dr. Dorothy Espelage described the longitudinal study she and her colleagues conducted, which examined the impact of family abuse and conflict, anger, self-reported delinquency, alcohol use, and peer delinquency on the development of bullying perpetration, sexual harassment perpetration, and teen dating violence perpetration among a large sample of early adolescents. Dr. Espelage discussed the findings from this study, drawing out important overlaps between bullying, family violence, sexual harassment, and dating violence, and the implications these overlaps have for designing and implementing interventions.
Learning Objectives:
Explore the ways in which bullying and family violence, sexual harassment, and dating violence interrelate
Understand other predictors and risk factors for bullying and how it varies by age group, gender, and race/ethnicity
Clarify the factors that must be taken into consideration in designing and implementing effective bullying prevention interventions
This webinar series is being conducted in conjunction with a series of blogs that will appear on the StopBullying.gov website.  To read the blogs, visit: http://www.stopbullying.gov/blog. 
About the Presenter:
Dorothy Espelage, Ph.D.is an Edward William Gutgsell & Jane Marr Gutgsell Endowed Professor and Hardie Scholar of Education in the Department of Educational Psychology at the University of Illinois, Urbana-Champaign.  She has conducted research on bullying, homophobic teasing, sexual harassment, and dating violence for the last 22 years.  She is an author on over 130 peer-reviewed journal articles, 25 chapters, and has co-edited five books.  She is Associate Editor of the Journal of Counseling Psychology.  Her research focuses on translating empirical findings into prevention and intervention programming and informs national policy. She conducts large-scale randomized clinical trials to evaluate social emotional learning prevention programs in elementary and middle schools to reduce bullying and aggression. She is funded by Centers for Disease Control, National Institute of Justice, and National Science Foundation.  She authored a 2011 White House Brief on bullying among LGBTQ youth and attended the White House Conference in 2011.