Image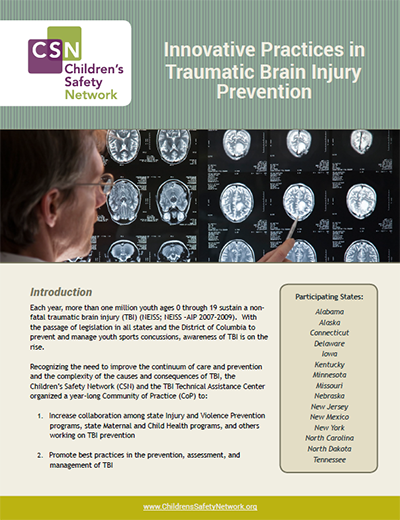 Each year, more than one million youth ages 0 through 19 sustain a non-fatal traumatic brain injury (TBI) (NEISS; NEISS –AIP 2007-2009).  With the passage of legislation in all states and the District of Columbia to prevent and manage youth sports concussions, awareness of TBI is on the rise.
Recognizing the need to improve the continuum of care and prevention and the complexity of the causes and consequences of TBI, the Children's Safety Network (CSN) and the TBI Technical Assistance Center organized a year-long Community of Practice (CoP) to:
Increase collaboration among state Injury and Violence Prevention programs, state Maternal and Child Health programs, and others working on TBI prevention
Promote best practices in the prevention, assessment, and management of TBI
Fifteen state teams comprised of more than 100 people participated in the CoP through monthly webinars, a listserv, a webpage, and state-specific team meetings. The monthly webinars focused on the following topics:
Abusive head trauma
Data collection
Falls prevention and TBI
Leading causes of TBI among specific populations
Motor vehicle crashes and TBI
Program evaluation
TBI screening among specific populations
Sports-related concussions
Substance use and TBI
When the TBI CoP started, the state teams identified specific TBI prevention goals on which they would work. Throughout the year, the teams reported on those goals, adjusting them as necessary. This publication highlights what the states accomplished.