Image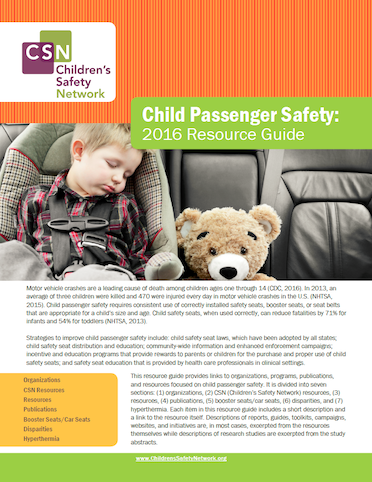 Motor vehicle crashes are a leading cause of death among children ages one through 14 (CDC, 2016). In 2013, an average of three children were killed and 470 were injured every day in motor vehicle crashes in the U.S. (NHTSA, 2015). Child passenger safety requires consistent use of correctly installed safety seats, booster seats, or seat belts that are appropriate for a child's size and age. Child safety seats, when used correctly, can reduce fatalities by 71% for infants and 54% for toddlers (NHTSA, 2013).
Strategies to improve child passenger safety include: child safety seat laws, which have been adopted by all states; child safety seat distribution and education; community-wide information and enhanced enforcement campaigns; incentive and education programs that provide rewards to parents or children for the purchase and proper use of child safety seats; and safety seat education that is provided by health care professionals in clinical settings.
This resource guide provides links to organizations, programs, publications, and resources focused on child passenger safety. It is divided into seven sections: (1) organizations, (2) CSN (Children's Safety Network) resources, (3) resources, (4) publications, (5) booster seats/car seats, (6) disparities, and (7) hyperthermia. Each item in this resource guide includes a short description and a link to the resource itself. Descriptions of reports, guides, toolkits, campaigns, websites, and initiatives are, in most cases, excerpted from the resources themselves while descriptions of research studies are excerpted from the study abstracts.